School Pranks including high school and senior pranks

When I was in high school, playing school pranks was the only way I kept sane. I hated having to get up and go to school to 'learn' things that I had already learned from my tutors. By tutors, I mean those extra classes that kids go to after school to make up for the lack of instruction in school.
Back to the main point, I spent a lot of my time sleeping in class. Sometimes I just played pranks on my classmates. Occasionally I got pranked by my friends. Once in a while though, I'd hear of a prank being played by some of the seniors. Those guys were pros and they never got caught.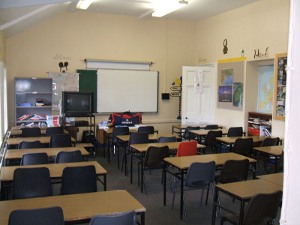 Time flew by and I FINALLY got out of school. The only thing I still do miss about school is the pranking. There were still a lot of ideas that I wanted to try out before I left. Since I can't really do so now, I've listed them out for you to try. Please do e-mail me to share if you've been successful!
Senior Pranks
You're about to leave the school soon and you want to leave an impression on the Juniors. The limit to the creativity of your prank is usually just that - creativity. With some teamwork from your fellow seniors, you can pretty much accomplish any of the prank ideas here.
So you've got the team, you've got the enthusiasm and now you need the pranks. Go through some of the senior pranks that I've compiled below, and see if you can come up with something better. In addition to stuff I've seen on the web and some that I designed on my own, I've also included some pranks that have been played in Malaysia, but probably not anywhere else.
To start with, I've provided a list of 4 large scale Senior prank ideas you can lay on your unsuspecting school! Check out
Senior Prank Ideas: 4 large scale senior prank ideas
. Be warned though, with large projects come large cleanups!
In the next of the senior prank ideas series, I have
Funny Senior Pranks: 7 funny senior pranks for your school
. Some of these pranks are as large scale as the 4 in the previous article, but most are smaller scale yet very funny (or at least fun).
So you've seen the 2 articles and want some large scale school prank ideas that are rather straightforward to do. You feel that too much planning will kill the fun. If that's the case, check out
High School Senior Pranks: 7 hilarious pranks for your senior year
.
Classroom Pranks
This section is for you if you're still in the school system for at least a few years to come. Most of these classroom pranks be pulled off by the individual prankster on one or a group of victims. While it is a solo endeavor, these school pranks are still as hilarious (if not more) than the senior pranks collection.
For starters, try out these pranks in
High School Pranks: 8 great prank ideas to try in your classroom
. You'll find a mix of 8 easy to challenging pranks, but those that are definitely funny. At least it will be funny for you.
Next, try out
6 funny pranks you can play in school
. You'll find 6 funny school pranks that will really crack you up, but a few here can be dangerous if you don't know what you're doing. Choose wisely.
Here's another
5 Prank Ideas
to use on your principal or the unsuspecting school populace. Be stealthy and quick in setting these up and you'll be rewarded with laughter, and perhaps some infamy. Don't get caught!
If you're in middle school, try and see if you can find a suitable prank in
7 prank ideas you try in middle school
. There you'll find some humorous yet harmless fun you can poke on your mates. You can also try out some of the classic pranks that are old-school but funny, nonetheless, at
Pranks to Play at School: 7 prank ideas for the bored in class
.
Dorm Pranks
Whether you currently live in a school, college or university dorm, these pranks apply to you. Try out
5 harmless dorm pranks
as an appetizer. You'll find simple yet hilarious pranks that should be tried at least once. Once you're done, read
7 Dorm Room Pranks to try
. Also, don't miss out on
6 Hilarious College Dorm Pranks
.
Graduation Pranks
You're free from school! Well, there's just a tiny detail left to get over with - graduation. It could be just any old graduation - with its dated ceremonies played out as it has been years and years before at your school (or college!). You could, however, make it something memorable and worth talking about at your class reunion down the road by playing the ultimate prank! If you're going solo, you might like to check out
5 graduation pranks you can try
.
Enjoy the pranks and remember to share your stories below! Remember that trespassing and vandalism is never a good idea. Please check with your school if senior year pranks are allowed on school grounds before attempting to pull one off.
Disclaimer: Please remember that every prank has an element of risk involved. I disclaim any liability from any negative consequences you may encounter in carrying out these pranks.
Dec 18, 18 02:03 PM

My sister has a PC, and frequently changes her desktop background. So, I change her desktop photo to one that she would never use, or one that she hasn't

Dec 18, 18 02:03 PM

I grabbed a pencil that my sister uses, and put clear nail polish on it. What this does is restrict the lead so that it can't write!

Dec 18, 18 02:02 PM

Put rainbow food dye on the toothbrush then you cover it with a bit of toothpaste wait until your target goes and brushes their teeth...
---
Return from School Pranks to Prank Ideas Central
---
Share your prank, or ask a question
If you have...

1. played a funny prank on someone and want to share it or
2. have a great prank idea or
3. want more details of a prank,
submit story/idea/question here! It's real easy to do - just fill up the form below and upload any pictures if you want to, and you're done!
What Other Visitors Have Said
Click below to see contributions from other visitors to this page...