7 Dorm Room Pranks to try
Bored? Try out all of these 7 dorm room pranks below. Remember to share your prank stories with us after you do!
1. Glow In The Dark
Is your roommate going off for vacation back home? You can help him redecorate a little with some paint and glow powder in this prank. Adding glow powder into paint will cause the paint to glow in the dark. Look for wall paint that closely matches your victim's room wall color when it's dry.
Next, you'll need some glow powder. This powder can be added to the paint to enable it to glow in the dark. Search online for a distributor to get some of the glow powder and usage details.
Now that you have the paint, the powder and the knowledge to use them, mix them up and paint your victim's walls. You can either repaint the entire room so that it will eerily glow at night, or you can paint some messages for your victim to see when the light goes out.
2. Remote Control Appliance Switch
To execute this dorm room prank idea, you'll need a remote control appliance switch that you can easily buy in a hardware shop. It's the type that you plug between your chosen appliance and the wall. I would suggest you use an electric drill or a small socket powered CD-player rigged with scary sounds for this prank. However, anything noisy will do.
Once you've plugged the appliance and the switch to the wall, be sure to leave the appliance turned on before you leave the room. Now when your victim is sound asleep, turn on the juice with your control, then quickly turn it off when you suspect your victim is waking up. Let him fall asleep again, then repeat. He'll probably think he's dreaming up the noises.
3. Monkey Face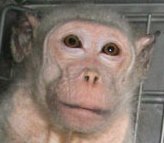 Do you visit a friend often or have a roommate who leaves his valuables lying around? Print out a monkey head shot and paste it on his ID or driver's license. Be sure to use temporary glue as you don't want to ruin his ID.
Then send him out on an errand that will need him to show his ID to someone - like a beer run. Imagine the look on the cashier's face when he produces his monkey ID.
4. Toilet Alarm Clock
Visit your victim often in his room? If he has an attached bathroom, this prank idea is a good one to try when you next use it. You'll need a Ziploc bag and a small battery powered alarm clock. Make sure you pick a real noisy one and purchase some heavy duty batteries.
Set the alarm clock for an hour when you're sure your victim will be asleep. Wrap it up with the Ziploc bag to waterproof it. Now hide the package in the cistern of the toilet and enjoy. Your victim will definitely have trouble locating the sound of the alarm.
5. Duct Tape Door Prank
You'll need some duct tape plus filling for this dorm room prank idea. The idea is to tape up your victim's front door to form a wall. You can use soda cans or packing nuts as fillings to fill up that wall. You can try pop-corn as well - a great deal will fall into your victim's room. Works only on open inward doors.
Alternatively, use saran wrap and duct tape to simplify the wrapping process. Use saran wrap as the main wrapper, then duct tape to tape it in place on the door arch frame.
6. Screw Loose Door Prank
This is one awesome dorm room prank to play on your friend if you can get access to his room while he's out. Quickly unscrew the door hinges from the wall before he gets back, then shut the door back to fit the frame. When he tries to open the door to get in, "BAM", the door falls in.
7. Ash Face
Want to redecorate your victim's face with some ash, and have him non the wiser? Dab some water on your middle finger then stick it into an ashtray. When you meet your victim, point to his face with your index finger and say he has something on his face. Make sure to tuck in your middle finger to hide the ash stains.
Offer to help him get it off his face, then use your stained middle finger to rub it off. Smear the ash liberally, then set your victim free to roam the dorm and get laughed at.
Dec 18, 18 02:03 PM

My sister has a PC, and frequently changes her desktop background. So, I change her desktop photo to one that she would never use, or one that she hasn't

Dec 18, 18 02:03 PM

I grabbed a pencil that my sister uses, and put clear nail polish on it. What this does is restrict the lead so that it can't write!

Dec 18, 18 02:02 PM

Put rainbow food dye on the toothbrush then you cover it with a bit of toothpaste wait until your target goes and brushes their teeth...
---
Return from Dorm Room Pranks to School Pranks
Return Home to Prank Ideas Central
---
Share your prank, or ask a question
If you have...

1. played a funny prank on someone and want to share it or
2. have a great prank idea or
3. want more details of a prank,
submit story/idea/question here! It's real easy to do - just fill up the form below and upload any pictures if you want to, and you're done!
What Other Visitors Have Said
Click below to see contributions from other visitors to this page...

operation long night Not rated yet
I took advantage of the fact that I only had evening and afternoon classes while my roommate had morning and afternoon classes. what I did was I replaced …