Bathroom Pranks: 14 ideas for the flush toilet - Pranks 1 to 4
There are many a bathroom prank you can play, really. Here are 14 to get you started.
1. Hot Seat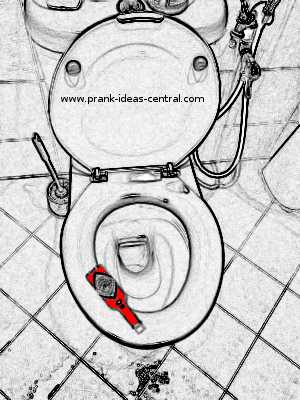 I've only heard of this prank idea being played once. It was pulled by my sister's friend on another poor guy who sat on the hot sauce and got a burning bum for it. You'll need some highly liquid sauce (as opposed to thick sauce) which you can spread on the top of the toilet seat. Spread it thinly so that it will more or less be transparent and avoid arousing your victim's suspicions. I found a site just for hot sauces you can use, but please be kind to your victim and go for the lowest scoville rating sauce first before trying others.
Click here for info on hot sauce
2. Hot Sauce under Toilet Seat
This prank idea is designed as a well laid toilet seat trap. Hide an opened packet of hot sauce under the toilet seat on the side closest to the water tank. Make sure the packet is pointing towards the other end of the seat. When your victim sits down, the hot sauce will squirt onto their behind, leaving a flaming mess, as shown in the video above.
3. Color Flush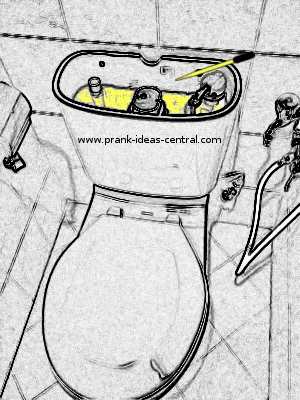 What comes to mind if you flushed the toilet and you see blood red water coming out? Or yellow? Simply add some food coloring into the water tank of your flush toilet for this bathroom prank idea.
Your victim will either freak out at the sight of 'blood', or flush again thinking the first flush didn't do its job. Your call.
4. Toilet Monster
You know how some pranks just scare people because it's so unexpected? This prank is one of them. If you have a toilet seat cover, you can either place something like the toilet monster or a rubber snake on the seat, then close the cover. If you don't have a toilet seat, just place the fake snake under the toilet seat. Your victim will probably notice something wrong when he or she sits on it and will lift the seat to find the snake.
Mar 29, 18 05:06 PM

I have high functioning autism, and an aide has to follow me around to my classes to make sure I'm not late. Not only does this essentially guarantee that

Mar 29, 18 05:06 PM

I told my mum that i am going to gym and my mum said OK but my annoying sister sneaked me by telling my mum that I can't go out with my friends. So how

Mar 29, 18 05:03 PM

This prank was funny and I played it on my mom. LOL ;) Materials: Sharpie Toilet Paper Roll Victim Steps: 1. Take the toilet paper roll and sharpie
---
Go to Prank Ideas 5 to 9


Go to Prank Ideas 10 to 14


Return from Bathroom Pranks to House Pranks


Return to Prank Ideas Central


---
Share your prank, or ask a question
If you have...

1. played a funny prank on someone and want to share it or
2. have a great prank idea or
3. want more details of a prank,
submit story/idea/question here! It's real easy to do - just fill up the form below and upload any pictures if you want to, and you're done!
What Other Visitors Have Said
Click below to see contributions from other visitors to this page...