Wedding gag gifts: 7 ideas for extra wedding merri-ment
Finding the perfect gift for a newly-weds? Avoid cliche gifts - consider wedding gag gifts instead! For the couple with a good sense of humor, a well thought out gag gift may well be that which makes their special day truly memorable.
1. Mrs. Always Right
Most people get "Mr. and Mrs." items like pillowcases, shirts and mugs as wedding gifts. Put a spin on the personalization idea as your special gag gift! For the men's items, have them say "Mr. Right" as usual but change it items to "Mrs. Always Right" for the women's. It's a good laugh and the bride will be happy to use these items at their home. The groom may not be as happy, though; he'll never hear the end of it!
2. Screaming scream pillow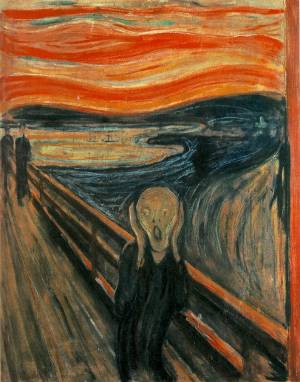 This gag gift will be particularly memorable for the couple if they love art; get them a screaming scream pillow! What is a screaming scream pillow? Why, it's a tasteful pillow with Edvard Munch's masterpiece, The Scream, printed on it -
click here for more information on the artwork (opens in new window)
. It has one very important characteristic though — when you squeeze it, it screams! Since gifts are usually opened after the reception, your special novelty gag gift will have a good chance of taking the couple by surprise in bed.
These, and variations of these pillows should be available for purchase at a your local gag store, or an online gag store.
3. Pleasure toolbox
If the newlyweds are close friends who share your sense of humor, try this wedding gag gift idea. Put together a special "pleasure" toolbox for their honeymoon. But instead of the usual assortment of adult toys, be creative by getting the goofiest, funniest sex toys and marital aids you can find. It would be best if you attach simple but hilarious note giving instructions on how to use each of them.
Can't think of anything? Try constructing a a list of regular items for a regular pleasure toolbox, full of adult goodies that the newlyweds would enjoy. Then start taking each item, and substituting them for a gag one! An extra large condom comes to mind, or a toy cucumber.
This gift is guaranteed to keep you in their memories for life!
4. Honey, can I clone your...
A lasting marriage rests on the foundations of love, trust and fidelity. So get the lucky couple a clone-a-willy kit. A clone-a-willy kit is a special molding kit for making an exact replica of the, uh, male sexual appendage. Attach a note expressing your hopes for their everlasting happiness and faithfulness to each other to emphasize the joke.
Alternatively, get them a breast casting kit instead. If you're feeling generous, getting both would be especially hilarious! Be extremely cautious though, not everyone will appreciate the humor so consider the receiving couple's personalities carefully before you give this wedding gag gift out.
These should be easily available or adult in gag gift stores both offline and online.
5. Marriage emergency kit
No good friend would wish a couple of newly-weds anything but a lifetime of happiness together. Well, this wedding gag gift takes that to another level. The idea is to create an emergency kit similar in concept to a first-aid kit, but for marriage troubles instead of physical injuries. Stock it with funny items complete with jokingly written instruction notes.
Some "useful" items include boxing gloves for fights, a timer for taking turns to talk in an argument, and bandages for "injured" feelings and broken hearts. There are countless possibilities for this wedding gag gift idea, so it's time to put your creativity cap on. To avoid misunderstanding, it might be useful to mention that you hope they never have to use the kit — ever!
6. Ball and chain rings
If you're the best man (or can get him in on the prank), then this is the perfect wedding gag gift idea for you to try! Get a His and Hers Ball and Chain Wedding Ring set from a gag store for the (un)lucky couple. After the exchange of vows, casually hand them these imitation gold bands to the groom and bride. Cue blushes and rapturous laughter! Be especially careful that you have the real rings at hand though; you don't want to ruin their special day.
7. The biological alarm
Here's a classic wedding gag gift idea. Unless the bride is relatively young, get her a "biological clock" that's available in online gag stores. The clock is the literal representation of the years she has left for having children. You can even set the alarm to go off a few hours after the wedding reception as a funny reminder!
Dec 18, 18 02:03 PM

My sister has a PC, and frequently changes her desktop background. So, I change her desktop photo to one that she would never use, or one that she hasn't

Dec 18, 18 02:03 PM

I grabbed a pencil that my sister uses, and put clear nail polish on it. What this does is restrict the lead so that it can't write!

Dec 18, 18 02:02 PM

Put rainbow food dye on the toothbrush then you cover it with a bit of toothpaste wait until your target goes and brushes their teeth...
---
Return from Wedding Gag Gifts to Wedding Prank Gifts
Return Home to Prank Ideas Central
---
Share your prank, or ask a question
If you have...

1. played a funny prank on someone and want to share it or
2. have a great prank idea or
3. want more details of a prank,
submit story/idea/question here! It's real easy to do - just fill up the form below and upload any pictures if you want to, and you're done!