Suran Wrapping During School.
by Eugene
(Elkhart, IN)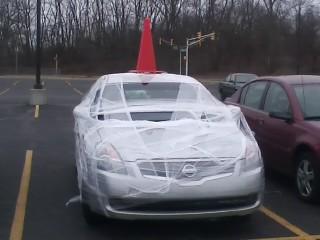 A couple days ago me and my buddy called in sick from school. We Then went out and got an Industrial roll of suran wrap. we also had about 35 traffic cones. We then went back to school and parked by our victim's car. knowing he leaves his car unlocked, we filled his car with the cones. We Then began to wrap around the car over and over again. After a while it was copletely covered and you could hardly see in. We continued to wrap and then topped it of with the largest cone we had. This is a great way to get a prankster back and to make sure he is late for whatever he has planned for after school.
Join in and write your own page! It's easy to do. How? Simply click here to return to General Invitation.
Dec 18, 18 02:03 PM

My sister has a PC, and frequently changes her desktop background. So, I change her desktop photo to one that she would never use, or one that she hasn't

Dec 18, 18 02:03 PM

I grabbed a pencil that my sister uses, and put clear nail polish on it. What this does is restrict the lead so that it can't write!

Dec 18, 18 02:02 PM

Put rainbow food dye on the toothbrush then you cover it with a bit of toothpaste wait until your target goes and brushes their teeth...