Suran Wrapping During School.
by Eugene
(Elkhart, IN)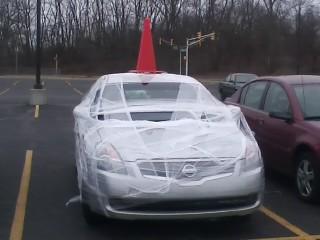 A couple days ago me and my buddy called in sick from school. We Then went out and got an Industrial roll of suran wrap. we also had about 35 traffic cones. We then went back to school and parked by our victim's car. knowing he leaves his car unlocked, we filled his car with the cones. We Then began to wrap around the car over and over again. After a while it was copletely covered and you could hardly see in. We continued to wrap and then topped it of with the largest cone we had. This is a great way to get a prankster back and to make sure he is late for whatever he has planned for after school.
Join in and write your own page! It's easy to do. How? Simply click here to return to General Invitation.
Dec 07, 18 03:14 PM

I once got a creme egg wrapper and boiled an egg. Coat the boiled egg ( once cooled ) with melted chocolate. When set wrap egg with the wrapper and give

Dec 07, 18 03:13 PM

My friend and I went up to McCall and pretended Bigfoot was chasing us. We told our younger siblings and they didn't believe us until we made Bigfoot sounds

Dec 07, 18 02:34 PM

So once I was really bored so I thought that I should play this prank on my 3 year old sister. You start by drawing a spider and coloring and curing it