Safe Car Pranks: 25 safe prank ideas a car can handle! (Pranks 17 to 25)
You need some safe car pranks to get at your target. Here are 25 prank ideas to help you get started!
17. Bumper Stickers
There are a variety of funny and embarrassing bumper stickers that you can use for this prank. If your victim is a homophobic, for example, you can place an "I'M QUEER" sticker on the bumper.
There's a selection of funny embarrassing car stickers that you can use for almost any person you can think of. Click here to go to Amazon for a selection of
prank bumper stickers
.
18. Card Music Mayhem
Purchase as many musical cards that you think you can hide. To be precise, you'll be hiding the chip in the card that makes the music. You can tape these under the seats, put one in the glove box (if it's full of other stuff!), tape another behind the rear-view mirror, another in the front-seat pocket, one or 2 under the carpet, and you can even hide one in the folds of the seat cushion! Your victim will either have a fun time looking for these devices, or will have to bear with it until it runs out of batteries.
Alternatively, you can buy the recordable types in bulk, then record your own sound or voice. Imagine the frustration of your target looking for the mocking sound of your voice in his or her car!
19. Snow in a can
This prank involves a snow in the can that you can easily purchase from a variety of shops. Spray the "snow" onto the windows and windscreen of your victim's car. It's hard to remove for sure, but it's a safe car prank. Of course, that's provided that your victim doesn't try to drive the car with the "snow" on the windows and windscreen.
20. Air-cond Vent Confetti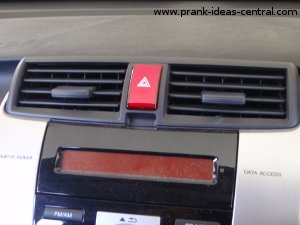 The idea in this prank is to fill the air conditioning vent of the car with confetti or powder that will blow out when the vent is turned on. I suggest that you line the car with some newspaper while filling the vent to make it easier to clean up the evidence. When you're done filling the vent, be sure you remove the newspapers and any other trace of confetti or powder that may be at the entrance of the vent.
Be sure to turn on the air-conditioning fan to full blast. When the car starts, a cloud of confetti will blow into the car cabin. Don't worry, it's messy, but it's a safe car prank.
21. Everything On - Needs Car Access
This is an alarming but safe car prank. What you need to do in the car is to turn on everything there is to turn on, so that it will come alive the next time the car key is inserted and turned. Set the car wiper to the maximum, radio to full blast, signals on. However, you might like to leave the car lights off as that might drain the car battery before your victim gets to his or her car. It stays on whether the key is in the ignition or not.
22. Fire!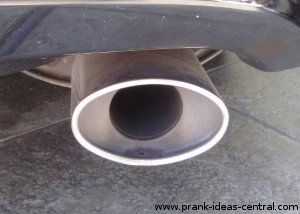 No, the car won't really be on fire. This really is a safe car prank! All you have to do it pour a little vegetable oil on the muffler, or wipe it on with a rag. When the car starts traveling, the muffler will heat up and - you guessed it - the oil will vaporize into smoke. It'll fool your victim for sure, until he realizes that the smoke smells like french fries.
23. Frozen Cotton Balls
This works only in cold climates that can go below zero. Dab cotton balls in water, then put them on your victim's car. The water in the cotton balls should turn to ice and stick the cotton balls to the car until the temperature goes above 0.
24. Mileage Fluctuation - Needs Car Access
This is a sneaky but safe car prank that should be played out over weeks instead of one day. On some days, siphon out some of the gas in your victim's car into a container. You victim will be wondering why the car mileage is so poor. Then every few days, pour in a little gas to top up your victim's fuel tank and give them 'extra mileage'. Guaranteed to bewilder anyone who observes their car fuel mileage.
25. Car Ads - Needs Car access
Have you seen cars with company advertising going by? Most of these car owners are paid by the companies to place these advertisements, and some of the companies even include the car in the package for the duration of the advertising. Of course, your victim will be advertising for a fake company that he 'owns'.
If you want to do it a simple way, paste a printed advertisement on a piece of A4 or Letter sized paper on the back windscreen. You can advertise risque services like 'inner thigh massages' or the like and include your victim's number. Be sure to use large font, around size 20 and above.
For a more elaborate prank, you can purchase large alphabet stickers and spell out the Ad on the passenger side or rear of the car. While this should be a safe car prank, the stickers will be harder to remove later.
Dec 18, 18 02:03 PM

My sister has a PC, and frequently changes her desktop background. So, I change her desktop photo to one that she would never use, or one that she hasn't

Dec 18, 18 02:03 PM

I grabbed a pencil that my sister uses, and put clear nail polish on it. What this does is restrict the lead so that it can't write!

Dec 18, 18 02:02 PM

Put rainbow food dye on the toothbrush then you cover it with a bit of toothpaste wait until your target goes and brushes their teeth...
---
Back to Pranks 1 to 8
Back to Pranks 9 to 16
Return from Safe Car Pranks to Car Pranks
Return Home to Prank Ideas Central
---
Share your prank, or ask a question
If you have...

1. played a funny prank on someone and want to share it or
2. have a great prank idea or
3. want more details of a prank,
submit story/idea/question here! It's real easy to do - just fill up the form below and upload any pictures if you want to, and you're done!
What Other Visitors Have Said
Click below to see contributions from other visitors to this page...