7 Kid Pranks to play on random victims
You're in the right place if you're looking for kid pranks just for kids. Heck, most of these pranks are good for adults too. Anyway, enjoy the pranks, but don't overdo it until it no longer becomes funny.
1. Tap Burst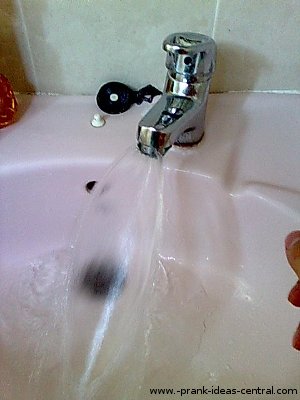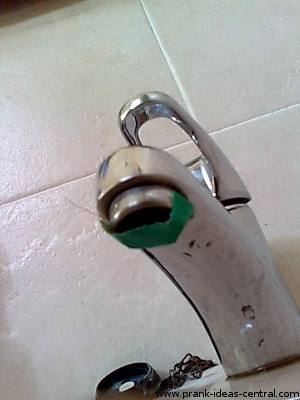 This is a simple but effective prank to pull off. Simply tape the faucet in your victim's bathroom mostly shut. I find that taping it more than 3 quarters shut works wonders. Check out the photos above to see what I mean.
When your victim turns on the rigged tap quickly, the water will jet out at him and wet his pants.
2. Glued Coin
Get a coin (a quarter, penny, 50 cents - depends on where you're from) and super-glue it to the ground. Enjoy watching your victims try to pick up the coin in vain. There will be plenty of suckers trying to remove it, I assure you. Some are just more determined than others.
3. Ding-dong Ditch
This is a classic kid prank. Simply go up to your victim's door, ring the doorbell, then run off to a hiding spot to see your victim wondering who rang the doorbell. Repeat once your victim goes back inside. Be warned - this prank makes most people really angry, and sometimes angry enough to hurt you if they catch you. They might call the police on you too, so you probably don't want to play this prank to be safe.
4. Colorful Milk
If your mom bakes in the house and uses food coloring, you can easily play this kid prank. Get some food coloring and mix it into some milk at your friend's house. When you drop it into the milk, the color will start spreading into it, giving your friend a colorful surprise the next day. His mum might even think that he did it. The more colors you put in, the more spectacular the effect.
The color doesn't ruin the milk, so you can tell your friend that when he finds out.
5. Gummy Wormy Apple
Surprise your victims with a worm in an apple in this kid prank. A gummy worm in an apple to be precise. Cut a hole in the apple about the size of the gummy worm. You don't need to use a knife - if the back of a spoon or fork is narrow enough, you can use that to poke the hole. Chopsticks and toothpicks work fine too, if you have them.
Once you have the hole, push in the tail of the gummy worm into the apple. Then give the apple to your victim, or swap his apple for your wormy apple!
6. Fake Vomit
What's better than fake vomit? Fake vomit that you can "puke" out of course! In this kid prank, you need a rubber hot water bottle and some soupy and chunky food like beef stew of pea soup. You'll need to blend this up, or use your hands to tear and mash the food down into tinier pieces so that it looks more like vomit. Be sure to wash your hands first if you want to use your hands.
Put the food (along with the liquids) you just mashed into the hot water bottle, then hide the bottle under your shirt. Now that you're ready to pull your prank, go up to your friends in the school cafeteria and pretend to be feeling sick. Then turn your backs to your friends and "vomit" by pressing hard on the hot water bottle. Once you're done, you can even pick up a chunk or two off the table to eat them. That will probably cause a few people to really vomit in disgust!
You might want to bring a spare shirt because sometimes the fake vomit might dribble down to your shirt.
7. Saltshaker lids
In this kid prank, the next time you see a pair of salt and pepper shakers that can be loosened at the caps, loosen them so that the next time someone uses it, the cap will come off and pour all the salt and pepper onto his food. If it's a shaker that has a cap on the bottom instead of the top, just remove the bottom cap and quickly put it back on the table. Some salt and pepper will be spilled, so clean up those so you won't give your prank away. When the next person picks it up to use it, the salt and pepper will be rushing out of the bottom!
Dec 18, 18 02:03 PM

My sister has a PC, and frequently changes her desktop background. So, I change her desktop photo to one that she would never use, or one that she hasn't

Dec 18, 18 02:03 PM

I grabbed a pencil that my sister uses, and put clear nail polish on it. What this does is restrict the lead so that it can't write!

Dec 18, 18 02:02 PM

Put rainbow food dye on the toothbrush then you cover it with a bit of toothpaste wait until your target goes and brushes their teeth...
---
Return from Kid Pranks to Pranks for Kids
Return Home to Prank Ideas Central
---
Share your prank, or ask a question
If you have...

1. played a funny prank on someone and want to share it or
2. have a great prank idea or
3. want more details of a prank,
submit story/idea/question here! It's real easy to do - just fill up the form below and upload any pictures if you want to, and you're done!
What Other Visitors Have Said
Click below to see contributions from other visitors to this page...